Virtual Factory® - Your Factory's "Nervous System"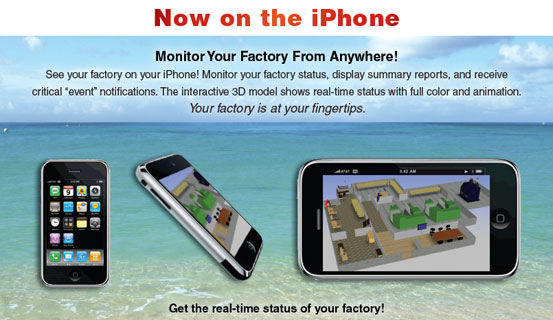 Virtual Factory provides the link between your company's enterprise "brain" and all of the machines and devices on your factory floor. Machines, sensors and operations are monitored and information is fed back to decision makers. Data collected is saved for later recall and analysis.
"Nip it in the bud"
Virtual Factory® will help prevent a small problem from becoming a large problem. Virtual Factory® will notify you (pager, cell phone, email) when a problem occurs that requires immediate attention. Whether a machine breaks down or a part's quality suddenly worsens, the right person will be able to respond quickly and take appropriate action.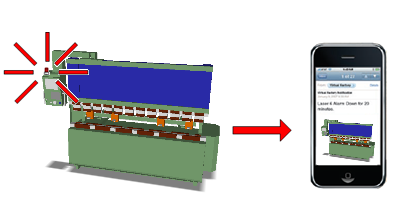 "Get to the root of the problem"
Virtual Factory® can help trace a problem to its source. Not only can scrap counts for each part be recorded, but scrap reasons can also be tracked automatically and manually. You can track where on a part a defect is occurring and what process or machine or tooling are suspect. Perhaps a certain supplier or set of tools is the culprit. Virtual Factory® can provide you the evidence. Below is a thermal image showing location and frequency of defects on a part. Defects and reasons can be traced back to tooling (e.g. casting dies).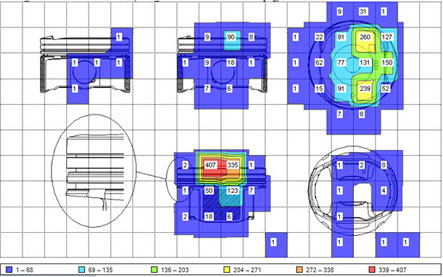 "If you can't measure it, you can't manage it"
Virtual Factory® will measure your production performance. Virtual Factory®will compare actual production quantities with planned or ideal quantities to measure your factory cells' or lines' efficiencies. Performance measures can be displayed in real time on large screen Andon boards as well as on laptops or smart phones. Virtual Factory®will perform trend analysis and summarize your performance data to help guide your continuous improvement efforts.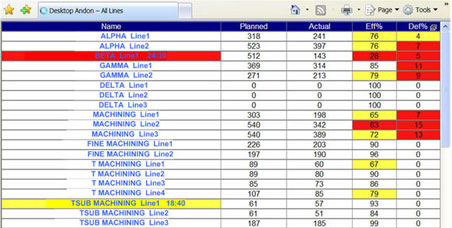 "An ounce of prevention is worth a pound of cure"
Virtual Factory® can track consumables usage and maintain historical usage information to help prolong the life of your machines and to ensure they run reliably. By signaling when it's time to perform preventive maintenance or replace worn tooling Virtual Factory®helps you avoid more costly breakdowns.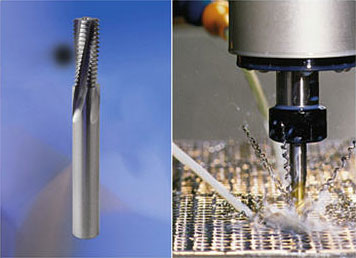 "A picture is worth a thousand words"
Virtual Factory®'s reporting and graphing features make sense out of all the data collected. Virtual Factory® comes with numerous standard reports and charts with various data filtering options (e.g. shifts or machines) to help you reveal patterns or trends in your factory's performance. Key Performance Indicators (KPI's) to be collected and graphed are user-customizable. Virtual Factory® can also export (CSV format) filtered data for use with Excel or other third-party graphing packages.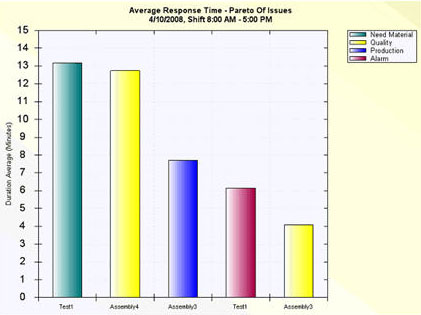 "See the forest for the trees"
Management needs to see the big picture. Virtual Factory® will provide real time factory visibility to your enterprise by continuously feeding back machine status, work-in-progress status and order status to your ERP system. Your enterprise managers and schedulers will have up-to-date information from the factory floor to help them with tactical decisions. You could even provide your customers with up-to-date order tracking!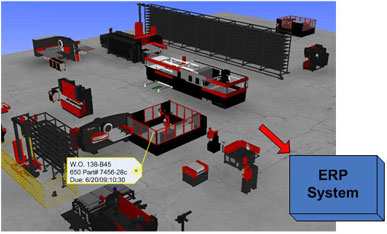 "The Icing on the Cake"
Virtual Factory® comes with a wide array of standard features, but there's more! The Software Development Kit (SDK) allows you or other third-party developers to add functionality by creating applications to communicate with the Virtual Factory® server. For example, user interface applications to set a work station's state or to enter part scrap information can be developed. Data originating from the software application can be treated similarly to data originating from any machine.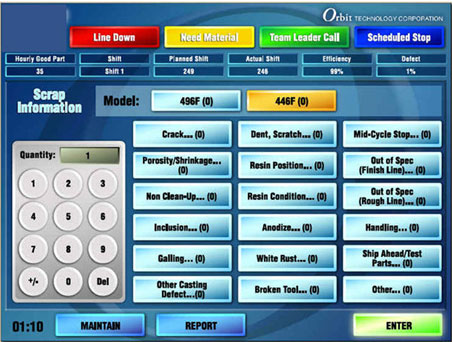 Virtual Factory® - Connections
Virtual Factory® will connect with a variety of machines, production lines or manual work cells using its OPC client as well as using (in some cases) custom-developed drivers. Users can monitor their factory status with web browser-based status panels (Andons), and can generate reports and charts from their laptops or even their iPhones.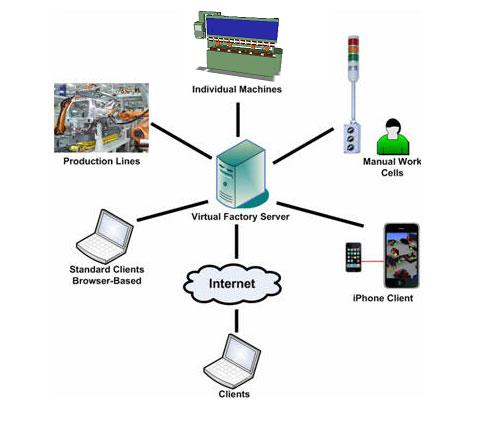 Virtual Factory® - Standard Features
User defined event definition, subscription, and notification
Web-based, customizable Status Panels (Andon displays)
Reports and Charts
SDK for third-party applications to communicate with Virtual Factory® server

See Amada Case Study for example
See Aisin Case Study for Touch Panel application example
Virtual Factory® - Options
3D Factory layout view of machines and status

iPhone Client

Custom application software using SDK
RealTRAK®
RealTRAK® is an optional module, which can plug into Virtual Factory® to provide RFID tag or WIFI device tracking support in your factory. The RealTRAK® option provides an integrated factory machine monitoring and RFID tag monitoring solution.
Geographic regions can be defined, and events can be defined based upon movement of tracked assets in and out of such regions. Consequently, Virtual Factory® can notify event subscribers when an asset enters a region or when an asset is in a region for X amount of time.
Using active RFID tags, people, forklifts, and even work-in-progress (WIP) containers can be located at any time. Using passive RFID tags, you can know when an asset passes through a "gate." RealTRAK® is hardware-vendor neutral, so Orbit Technology can select the most appropriate RFID hardware and software locating engines for a particular application and customize the business logic of a solution.