Case Study

Your factory is at your fingertips!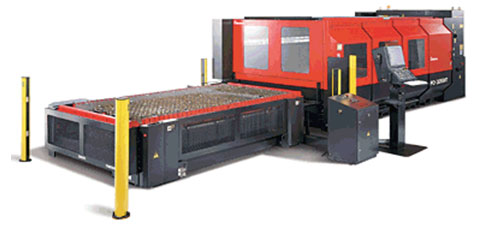 Amada, a machine tool company, has thousands of precision sheet metal shop customers worldwide. Amada's products include turret punch presses, lasers, press brakes, tooling, and automation systems. Amada also develops and sells CAD/CAM and other software to provide their customers with a total solution from design to manufacturing.
Hundreds of vFactory® Sites
A cutting-edge component of Amada's software suite is vFactory®. Embedded within their AMNC machine tool controls is software to monitor machine and part production status. This information is logged to a server continuously, so Amada's customers can display user-friendly and meaningful performance summary reports and charts from anywhere on the Internet.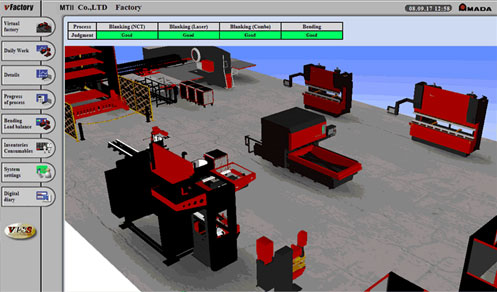 Machine history, actual part production times, and other key performance indicators and patterns can help Amada's customers to see areas which need attention and improvement. In addition, vFactory® can notify users by email or pager/cell phone of any problem, which might require immediate attention.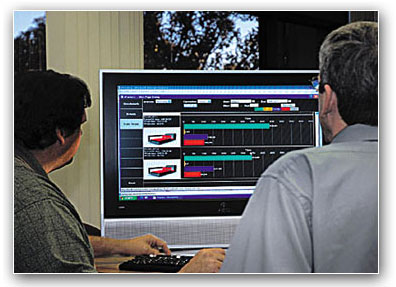 vFactory® as a Predictive/Preventive Maintenance Tool
Another important feature of vFactory® is its ability to help Amada's customers prolong the life of their machine tools, as well as ensure that their Amada machines are running in an optimal and reliable manner. Consumables usage, such as tooling and lubricants can be monitored. For example, the number of tool hits for each tool in a punch press turret can be logged. Threshold values for such quantities are defined, so when these values are reached, Amada's customers know when to replace tools or perform preventive maintenance.

Furthermore, because vFactory® can also be linked to a server at Amada locations, Amada service personnel can perform remote diagnostics before visiting their customers

vFactory® Consumables Monitoring helps Amada's customers avoid more costly breakdowns and "reactive maintenance" calls. Consequently, Amada needs fewer service personnel to cover their customers' service requirements

At the core of Amada's vFactory® is the server software developed by Orbit Technology Corporation. The vFactory® User Interface applications communicate with the Server using Orbit Technology's SDK.